A break from writing duties over the weekend to get out and about a bit, plus organise a few things.
First up, I finished the front cover for the book, after securing the publishing rights to a fantastic picture taken by Tony (A J) Barratt.
Many of you will recognise it from a selection of pictures taken to accompany an article in the NME, the UK music weekly newspaper, in early-1990.
I am thrilled with the front cover, especially as Barratt (now no longer a commercial photographer) was an absolute joy to talk to.
Never one to miss an opportunity to spread the word about Halo, I took advantage of a few promotional activities which have come in recent weeks, so put the cover on a flyer.
Phoenix FM is a radio station in Brentwood, Essex (about ten miles from Basildon, the spiritual home to Depeche Mode trio Dave Gahan, Martin Gore and Andy Fletcher).
Probably in part due to Essex's wider electronic music roots beyond Depeche, Phoenix FM has a regular Saturday breakfast show devoted to the genre, hosted by Rob Harvey.
Harvey was kind enough to invite me to talk about Violator and the book.
It's a great show – you can catch the interview from 1h55m, straight after Nitzer Ebb's Ascend (produced by Flood, of course).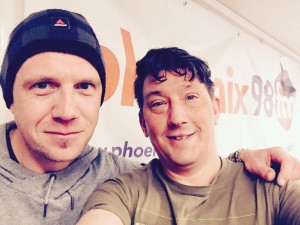 Harvey signed off the interview by, of course, playing Halo.
Short snippet here:
Thanks to Rob (the show's Facebook page is here) for opportunity to come in to the station and chat.
+ + +
In recent weeks I've got to know two of the guys from Speak & Spell, a UK-based Depeche Mode tribute band, learning how they spend months programming the sets and pulling their own sound together (no wholesale sampling of original Depeche material, it's all home-made or from synth libraries, and incredibly accurate).
Simon Forsyth (who once helped Alan Wilder service his synths ahead of the Collected auction) and Keith Trigwell, both keyboard players, joined band mates Joe Beaumont and Dave Gahan-esque frontman Paul Wood last weekend for their own celebration of Violator, performing the album in full (ahead of a "classics" set) at a packed Islington O2 in London.
These guys are good – extremely good, in fact (and I'm not just saying that because they allowed me to hand out the flyers to fans during the evening!).
Say what you like about tribute or cover bands (sadly, too many are absolute rubbish), but the work by Speak and Spell that goes in to recreate and perform the Depeche songs (especially some of the old tracks, such as Tora Tora Tora and Puppets) is very impressive.
Inevitably, they went down very well with the extremely lively crowd 🙂
It was a very enjoyable evening.
(Not particularly good, sorry) clip from the final song of the night, Never Let Me Down Again.
So, huge thanks to Rob at Phoenix FM. Also to Keith, Simon, Joe and Paul (plus Sandie, their manager).
Back to writing now…