Our co-author David McElroy spent a large part (well, all) of March 2020 writing about Violator, to commemorate the 30th anniversary of its release.
He filled the entire month with posts on his Almost Predictable Almost blog about it, in fact. Here's the full list of articles (including one from Halo co-author Kevin May).
Alongside some terrific fan and personal recollections, reviews and analysis, David shared a post about the eye-wateringly large collection of Violator rarities and single releases, many or all of which he owns!
We're republishing it here in full (note the pound sterling prices referenced in the article were correct at the time of writing)…
=====
Writing my blog about the Black Celebration era rarities in 2016 was relatively easy as Depeche Mode hadn't fully embraced multiple format releases at that stage. Collectors still had the West German coloured vinyl to chase, but UK releases tended to stick to 7-inch, 12-inch, limited 12-inch and the odd promo.
By the time the band arrived at Violator, however, there was a lot more choice and, unless you bought everything back in 1990, there is now a lot more cost involved as a result.
The numerous formats the various Violator singles were released on worldwide means that if you want to complete your collection, there is an almost endless chase to track down every single one. Some items are relatively cheap to find, others almost bewilderingly expensive. I have a few rarer items, but my collection is by no means complete. Today's blog is going to look at each of the singles and the rare releases associated with them plus the album itself. The list is not definitive, however – consider it more of a beginner's guide.
All photos are mine unless otherwise stated. As my friend Andrew says, this is going to be one of those blogs that gets a bit technical; he compares it to a complex car manual. I can see what he means.
Personal Jesus
As we've seen, Personal Jesus was released on seven official formats in the UK. They are not too tricky to find, nor are they too expensive. The 7-inch gatefold can currently be had from Discogs for around £22 for example. The later repress 12-inch with red labels is pricier than the original black label release. Discogs currently has that for sale at a rather high £46 (ignore the one with no cover….) whereas the standard 12-inch will set you back anything from £17 to £45 for a mint copy.
The original 3-inch cd singles in excellent-to-mint condition are hard but not impossible to find. You can pick up CDBONG17 for as little as £8 and LCDBONG17 for £20 to £40. The promo versions are much pricier, however.
Wary of radio stations taking offence at the nudity on the rear sleeve of Personal Jesus, promos were released with black sleeves. These are known as the censored versions. The rear of the 7-inch looks like this:
The CD single, CDBONG17, was also censored and looks like this:
These two are pricey items and represent something of a holy grail for Depeche Mode collectors. The censored CD is not currently available on Discogs and was last sold in October 2016 for a remarkable £7. If it ever comes to market again, it will sell for a lot more than that. There are three versions of the 7-inch promo on Discogs just now, ranging from £145 to a mint version for £257. Popsike shows that the record has previously sold for around £325. If you wanted to buy one with Alan Wilder's autograph on it, expect to pay over £600. Yikes.
Currently, however, the most expensive Personal Jesus release is the Australian-only blue vinyl 12-inch pictured above. Very few of these were released and if you want one, head to Discogs just now where it will cost between £505 and £985. It's even previously sold for over £1,000 which is madness.
The most expensive Personal Jesus item I can find is the 10-inch acetate of the gatefold 7-inch of the single. Bidding started at around £5 for this one but it eventually sold for around £2,200. Bloody hell.
Enjoy The Silence
For Enjoy The Silence, Anton and his team discarded nudity, favouring a simpler approach instead. This meant that there was no need to censor anything, so there are no ludicrously expensive promos to chase here. Before we look at those though, what about standard versions?
The 7-inch is available on Discogs for a reasonable £6 or so ranging to a frankly hilarious £150. Please do not buy it for that. The cassette single will meanwhile set you back £11. The standard 12-inch in one of its variants is available for a laughable £65 or so while its CD equivalent (the original 3-inch version) is bafflingly cheap though I'd possibly avoid the "sticky" one. The L12 starts at £14 rising to an improbable £52 and its 3-inch sib(e)ling can be had for up to £38.
Enjoy The Silence saw the first ever Extra Limited release of a Depeche Mode record. XL in catalogue number speak. Discogs currently has them for sale ranging from £7 for one with no cover (DO NOT BUY THIS – THE COVER IS GLORIOUS) to £85 for an apparently mint version. The XLCD version will cost you between £18 and £27 but please avoid the one with the cut-up sleeve. What is it with people and this sleeve? It's a work of art for God's sake. Stop either hacking it up or losing it. Who loses a record sleeve?
The promos are of course rarer and thus more expensive. The UK promo 12-inch pictured at the start of this section can currently be purchased for £35 to £130 depending on how much you care about slight sleeve damage etc. The lovely 3-inch promo CD pictured above can be yours today for £85. Finally, if you want the promo 7-inch, I hope you have at least £350 handy. It pops up fairly often so keep an eye out.
If you're after a gorgeous rarity, the Japanese 3-inch CD single is your thing. Available in standard and promo versions (standard version above), it has sold for as little as £31 and as high as £390 on Discogs. The sleeve is superb both on the front (above) and on the rear:
The CD itself is also quite lovely:
There is a promo version too that comes up very rarely. The US promo cd (below) is also fairly pricey, ranging from £47 to £116 on Discogs.
Finally, a Swedish record pressing worker once pressed up a yellow vinyl 12-inch version of 12BONG18. Only one copy apparently exists and it once sold for about £3,000 on eBay. If you bought it, congratulations.
This seems an appropriate time to issue a warning. If you look on eBay, you will see people selling 3-inch CD long boxes of Enjoy The Silence and Personal Jesus, among other tat. These are listed at over £1,000 and are nothing more than bootlegs.
I can guarantee you that no record company ever issued an Enjoy The Silence box set with a necklace for example. Please do not fall for these things. Ignore them or, if you're up for it, continually bid £1 for these things just to annoy them. All they are doing is making money from Depeche fans who don't know better. Before you buy anything, check with depmod.com or reliable Facebook sources. You'll quickly find out what is real and what isn't.
Policy Of Truth
Format-wise, it was only released on six formats here in Britain ("only") so there's not a great deal to say about them. The 7-inch can be had for as little as £1.50 on Discogs ("No cover…slightly warped…" – hmmmm) to £20 for yet another record with no cover. A couple of cassette singles are available too, either £9.99 or £16.
The standard 12-inch will set you back anything from £4 to £35 and its CD equivalent (spoiler alert format fans, it's a 5-inch, not a 3-inch) is £1.70 to £8. The beautiful gatefold limited edition 12″ will cost you from £10 to £34 with the CD version ranging from £6 to £24. Both of the limited versions are well worth having.
As ever, promos are pricier. The radio promo 7-inch (above) will cost between £21 and £60. The £60 version has a Ferret & Spanner sticker on it which, if these things are of importance to you, is an important thing. This was the plugging company that Mute used and rare Depeche Mode promos increase in value if such a sticker appears on them. Again, mind out for the bootlegging bastards I mentioned above. They have a seemingly endless supply of fake stickers and will add them to anything.
The radio promo CD above is a nice item, currently costing between £65 and £108. The equally lovely promo 12″ (below) is pricier, yours for anywhere between £64 and £215.
World In My Eyes
Six formats were initially released in the UK. The three-track 7-inch and cassette singles (those two B-sides… oh my word) can be yours for £3 to £25 on vinyl or £20 (£20?!?) on tape. The standard 12-inch single is a reasonable £10 to £14 and the standard 5-inch CD a coverless £2 to a mint £17. So far so good.
L12BONG20, the limited edition 12-inch is a cracker. Every single thing about this record is sensational. The gel pack cover, the "Violate Here" thing, the inner sleeve….oh my word. Anyway, an unsealed version of this is going to cost you anywhere from £7 (don't buy that one) to £130.
If you are after an unsealed version of this always ask for photos and satisfy yourself that it is fully sealed.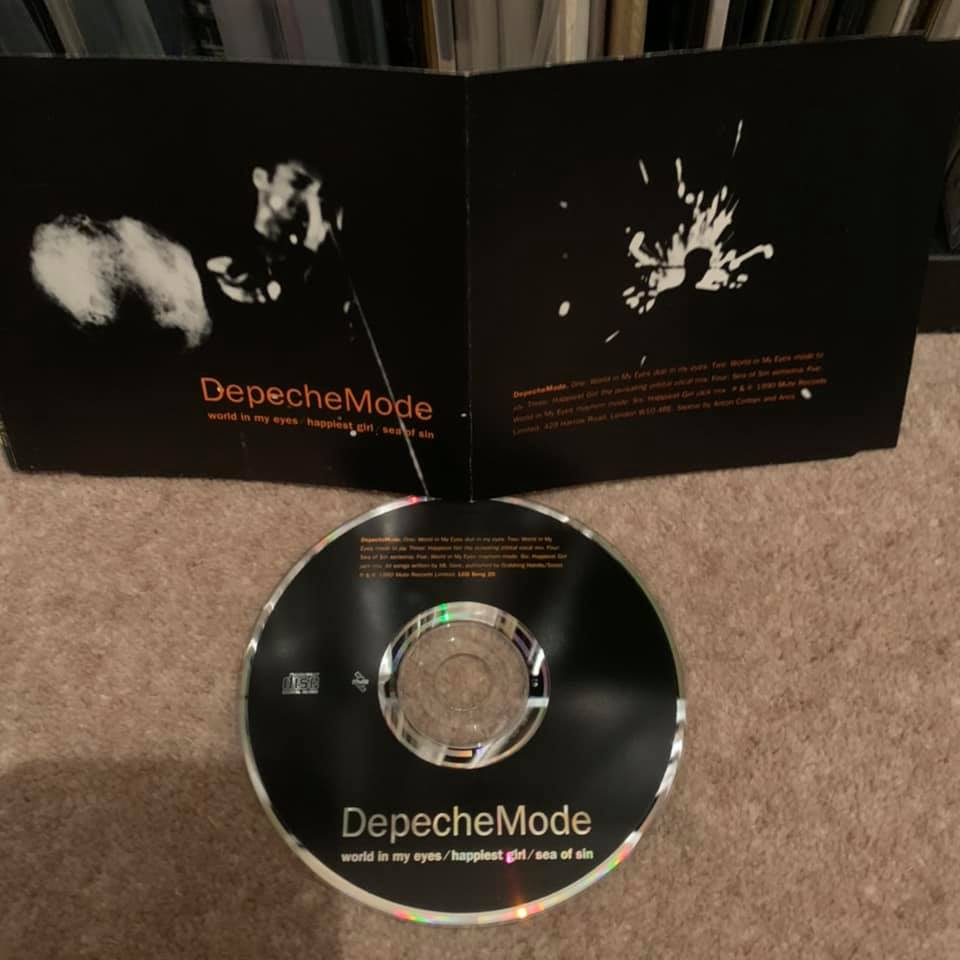 The limited CD (above) is also wonderful and is yours on Discogs from £21 to £26. It's the promos that cost a bit more money.
The standard 12-inch promo costs between £24 and £38 on Discogs at the time of writing. There is a second promo 12-inch available of which only 500 exist. It's numbered and has a sticker with Dave on the front telling you what number you have.
This can be yours for "only" between £325 and £375. You can get a 7-inch promo too which has a different label to the standard 7-inch. That very label is pictured at the top of this section. If you want it (the record that is, not just the label. That would be odd), there is one on Discogs just now (apologies if you are reading this in the distant future) and that'll be £75 thank you very much.
Finally UK wise, there's the radio promo CD pictured above. That piece of luminous orange joy is either £150 or £250 if you fancy going e-shopping.
On foreign shores, nice rarities are the Spanish promo 7-inch with a sticker on it mentioning the Spanish World Violation Tour dates and the US promo CD.
Violator
Yes, there are even a few rare versions of the album.
As albums did back in 1990, Violator came out on CD, cassette and vinyl. To promote the album, Mute sent out boxes like the above to lucky people containing all three formats plus an insert containing a Mute discography. British, German, Spanish and French versions of the box exist. Don't let our bootlegging friends fool you into thinking other versions are out there. They aren't.
This rare box will not come cheap. Discogs currently lists two selling for either £736 or £1,132. Do double and triple check a box is legit if you ever fancy buying one.
Violator also came out in two curious formats in the UK. Firstly, there was the MiniDisc version above. It's a lovely wee thing but it's very rare. There are none currently for sale on Discogs, but as you can see they usually sell for around £100.
A Digital Compact Cassette (no – me neither) was also released and is again rare. I still can't find one but when I do, Discogs tells me it will cost me around £43. Somehow I think that is optimistic at best.
Miscellaneous
Finally, there is the 3-inch Japan-only World Violation, a 3″ cd in a snap pack that was issued to promote the World Violation Tour dates in Japan. It's hard to find but highly desired, especially by people like me who don't have it. It has previously sold for £433 on Discogs.
There you have it then. A rough guide to Violator era releases, from the standard price to the "you really should be spending this money on food and essentials" price. There are many more collectables of this era out there but I think I've covered the highlights.
Note: The full Violator month project from Almost Predictable Almost is here.