NOTE: The original version of this review of the Paris gig appeared as part of the Spirit Tour series on the Almost Predictable, Almost site.
* * *
I am making a fairly confident guess that the vast majority of those both writing and reading these reviews of the Global Spirit Tour are not newbies to Depeche Mode.
They probably range from hardcore devotees who go to ten or more gigs on a tour and collect every format of every bit of new material, to those who probably take in one show each time and buy the latest album.
We, both readers and scribes of the wider series on the Almost Predictable, Almost website, generally know our stuff and can relate in some way to most of the reviews, and we all certainly have an opinion about the band and how they are performing.
For this review, my second in the series for David McEloy's site (I penned a piece about night #2 of the tour in Amsterdam – and the HALO site version), I wanted to come at it from a different angle, primarily because I had two newbies in tow.
And this particular pair of Depeche debutants happened to be my two kids, aged 12 and 9 respectively.
They certainly know of the band (their father is obviously a fan and just happens to be writing a book about them – so there's a fair amount of discussion at May Towers about all things Depeche!) and they both have opinions of sorts about songs.
Ella, the more senior of the two, is typical for her age – she likes Katy Perry, Little Mix (she saw them at the O2 in London a few years back) and Justin Beiber, claiming they are all "AMAZING" compared to the 1980s-formed boys from Basildon.
Sam, alternatively, recognises many songs and even says he has a few favourites: World In My Eyes and Personal Jesus, for example.
I've shown them many live clips and enthused about how seeing Depeche at a gig is a wholly different experience to listening to the recorded output.
At this point, I usually get something along the lines of "well, i'm too young – I'm never going to get to go" or "yeah, whatever, Dad".
I was determined to prove them both wrong at some point…
* * *
Late last year, as the first gigs on the tour were announced, I figured it was time to act – getting some money from a speaking engagement, snapping up tickets for the Stade de France show and deciding to make a weekend of it, with both elements kept as a surprise.
Through a combination of stealthy tactics and a few small lies here and there (they were told I was doing a speech in Manchester for my day job), eight months later, we found ourselves getting off Metro Line 13 at one of the stations close to the stadium.
I'd already had a funny conversation earlier on the Metro with Ella, who was asking "huh, how can something be 'almost predictable'?" when she noted the t-shirt for David McElroy's blog that I was wearing for the evening.
I explained it was a line from a Depeche song – "oh, right, okay…", she remarked before, in that way kids do so well, moving on swiftly to something else of more interest to her.
The game was nearly up though.
Having already been taken aback somewhat as they boarded a train to Paris, rather than Manchester, we got within a few hundred metres of the stadium before my daughter asked why a group of men (old school ticket touts!) were holding up bits of paper with Depeche Mode written on them.
It was time to confess.
Within minutes of them slowly absorbing the news that they weren't going to be "watching a sunset from a famous hill in Paris" after all, but seeing Depeche instead ("NO WAY?!?!?!"), they were immersed into the pre-gig world of hundreds of fans milling around the stadium.
"I can't believe how many people are smoking!", says Ella. Welcome to France 🙂 …
Sam, innocently and rather amusingly, asks: "Are they going to sing all the songs in French?"
It's easy to forget, as fans of music generally for many years and regular gig-goers, how alien and surreal the experience might be for a kid.
The Stade de France and its surrounding pedestrian areas are easy to navigate, and within minutes of moving quickly past the merchandising stands (come on, lads, it's pretty hard to feel revolutionary against the "system" when being bled dry for a tour t-shirt – sorry, rant over), we are in our seats.
As fans, especially during active periods for the band, it is fairly typical to get wrapped up in the Depeche Mode universe.
Many live and breathe the meanderings of life for the band – examining set lists, checking pictures on forums, wondering about the crowd configuration at shows, looking for hints of strains (or not, it seems, at the moment) between band members.
But in the heads of two kids who are about to experience Depeche Mode for the first time, the questions come thick and fast, covering every type of issue:
"So, there are three in the band [looks at my DM-branded beer cup], but five are going to play? I don't get it."
"Does the song Personal Jesus mean they are really religious?"… Let's not get started on that one!
"Will the neighbours complain if it's too noisy?"
"What happens if they need the toilet?"
"The front cover of your book has four people on it. Why did the other guy leave?"… Let's also not get started on that one!!
Thankfully, Algiers (who are excellent as the support act) create enough noise and visual interest from our vantage point on the second tier, between the stage and halfway line of the pitch, to stem the flow of questions.
It is perhaps the general atmosphere of the huge stadium that they are absorbing like sponges by this point, as the Martin-curated techno set builds ahead of the first strains of Revolution by The Beatles.
Much to the kids' delight, after exchanging messages, I point out a friend who waves back up at us from the Golden Circle.
And then, Depeche finally arrive shortly after 9pm (giving rise to perhaps the most frenzied reaction I've seen so far on the tour, at least from where we're perched), with the now well-known run of songs that make up the first half a dozen songs of the set.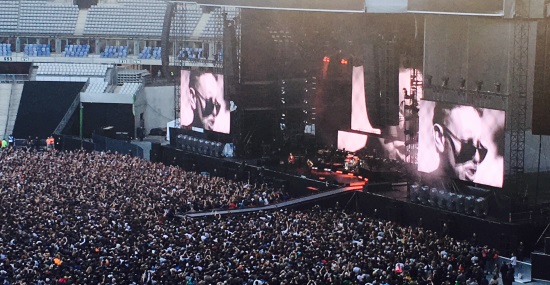 A Pain That I'm Used To is the first where the crowd appears to unanimously get to its feet, including – much to my surprise – both of the kids.
There is clapping and cheering, a few questions here and there ("Does he always wiggle his bum like that?"… "Err, yeah."), but, perhaps most wonderfully, they have taken the plunge into our little world.
Never underestimate the impact of live music, whatever its form – it can truly surprise and thrill, especially to those that rarely experience it or, as in this case, are witnessing the power and passion of a Depeche Mode on top of their game and clearly enjoying themselves.
The wonderful In Your Room triggers the first "that's a bit weird" about Anton Corbijn's visuals but any confusion or distraction is soon forgotten as the opening bass line of World In My Eyes rings out and both the Stade de France and son Sam cheer loudly.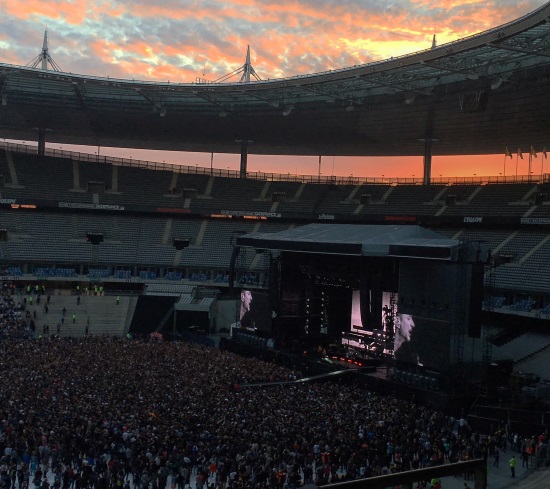 Dave's first foray on to catwalk at the close of Cover Me brings about a huge cheer, plus an "oh no – is he going to fall in at the end?!?" from one of the kids.
Some brief fan punditry coming up:
Judas is a very welcome addition to the set, replacing A Question Of Lust and ensuring Martin gets a gentle and genuinely moving "if you want my love…" chiming around the stadium in northern Paris.
Home has its usual and loud sing-a-long at the end but I feel there is (after seeing three gigs so far on this tour) an awkward dialling down of the momentum, not least after two slower numbers from Martin.
Perhaps this is the point where Everything Counts or another old fave (maybe even Where's The Revolution) should get their airing, rather than the plodding and lesser-known Poison Heart.
By now, close to 10.15pm, Paris has finally fallen dark enough for the light show to really kick in.
It's a bizarre sight to see both kids singing "WRONG!" at the top of their voices and pointing to the sky, clearly picking up on what the crowd is doing around them.
By the time we get to Enjoy The Silence, a song that the kids actually know all the words to, much to my surprise, enjoyment and total immersion in the show takes over.
Ella leans over and shouts: "Will they sing the 'I'm taking a ride with my best friend' song?" – again, surprising me somewhat as I never realised she even knew the song.
Martin still says how incredible it was seeing an entire crowd waving their arms in unison for the first time on Never Let Me Down Again, back in 1988, so it must be equally breathtaking for a child to witness 70,000+ people doing it for the first time.
I'm not usually one for hyperbole, but it is a moving experience for a parent, seeing their children lapping up the experience, waving frantically along with everyone else – perhaps finally getting what all the fuss is about.
The encore ("oh, they're coming back – YES!") glides through with the rendition of Somebody, with mobile phone lights twinkling everywhere, a stomping Walking In My Shoes and a gentle Heroes before the final pair of I Feel You and Personal Jesus.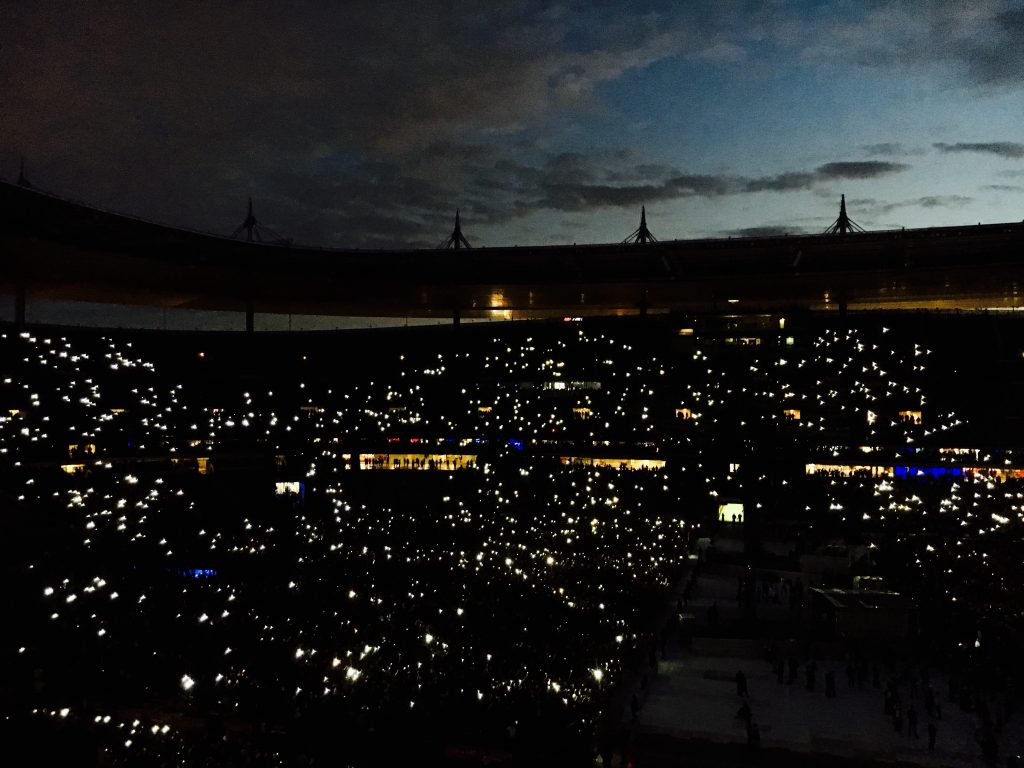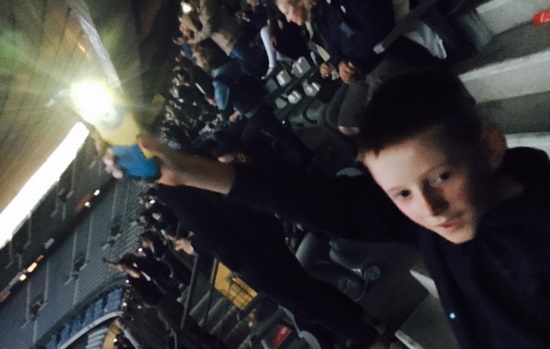 As the final "reach out and touch faith" comes and goes, with both jumping in the air and shouting at the tops of their voices, there is the immense relief that eight months of mild subterfuge and planning worked out, and pleasure knowing that it really was worth the effort.
It is arguable that they would perhaps have the same level of enjoyment at any other large gig – experiencing an enormous crowd and the passion that live music can create amongst the fans attending.
But this is something else – there is also an emotional connection for them as they know how much this band and the buzz around it (not least with my decision to spend a lot of time writing about it) means to me.
And, yet, weirdly, the most satisfying part of the whole experience in Paris was not something that happened in the stadium on the night of the gig – it was the following morning when all I could hear was them quietly talking about it and sharing their favourite moments as they woke up in the adjoining room at the hotel.
FOOTNOTE:
It was only later during this trip that I realised – after glancing upon a post on the Depeche Mode Classic Photos and Videos page on Facebook – that my own first visit to the French capital was almost 24 years to the day.
By bizarre coincidence, I was also there to see Depeche.
They played two consecutive nights, on the 29th and 30th June, at the Paris Bercy Arena on the Devotional Tour.
Full of hair (and bearing an Enjoy The Silence t-shirt), beside the Pyramide du Louvre in Central Paris before the first gig: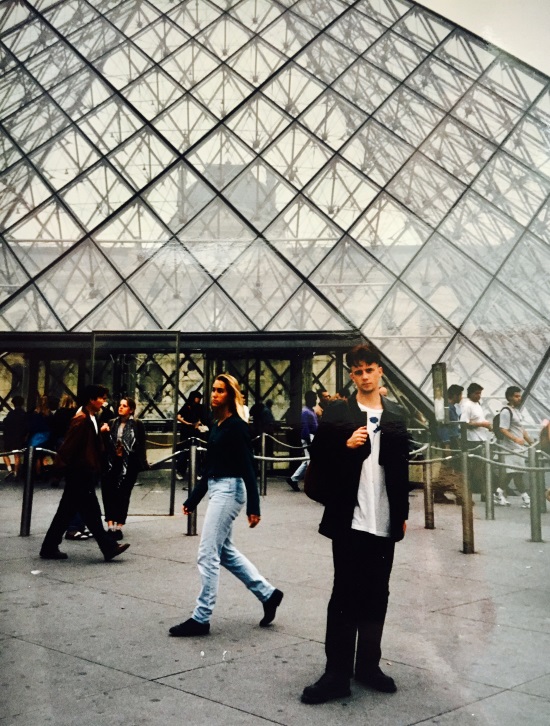 And just to demonstrate how times have changed for a certain rock'n'roll band, Dave Gahan is the new face of Dior.
The Paris-based fashion house has posters of the Depeche frontman in the windows of some of its stores in the city.
Luckily, the band's new fans aren't taking it too seriously 😉