After a few days of near-hysteria on social media and the Depeche Mode forums, Where's The Revolution has finally "dropped".
The single is the first track to be released from the band's forthcoming album, Spirit – their 14th studio long-player and the first new material in almost four years.
Official news of Where's The Revolution's impending release hit the web earlier this week, including an image of its front cover (and also that of the album, due for release on March 17), inevitably igniting large swathes of, err, feedback about its design.
Long-time collaborator Anton Corbijn is (thankfully, I believe) still steering Depeche's artistic direction. Whether his designs please or anger fans, Corbijn always gives the band a theme and a visual narrative to follow through the life-cycle of a project (these days, the singles + album + merchandise + tour are considered "a project").
Corbijn has also directed the as-yet unreleased video for Where's The Revolution.
Back to the single…
Where's The Revolution (and the album) is produced by James Ford, of Simian Mobile Disco fame – the first time in 12 years that the band have had a new producer and studio team (DJ/producer Matrixxman is on engineering duties).
Many fans have argued that Ben Hillier's time was up, following his trilogy of albums, Playing The Angel (2005), Sounds Of The Universe (2009) and Delta Machine (2013).
Correct or not, rumours that a new studio guru/peacemaker/ideas man was on the way inevitably led to the usual dizzying array of possibilities being suggested (Brian Eno, Flood and Trent Rezor, to name a few – with the usual pleas for Alan Wilder thrown in for good measure).
How much of Ford's dirty electronic sensibilities from SMD will feed into the rest of Spirit remains to be seen, although the partnership with Depeche is already being touted as one of where his musicianship, as well as production skills, was an important factor in the decision to hire him.
Depeche Mode have had a habit since Violator of hitting the airwaves with a big statement for the first single, often unlike anything else that is on the rest of the subsequent album,  (Personal Jesus, I Feel You, Dream On and Wrong, in particular).
Here we are, back again, ladies and gents.
WTR (as it will eventually be called by fans) is certainly continuing that trend.
The band will probably explain more about the track's rabble-rousing lyrics during interviews in the coming weeks, but there is little doubt that the timing of its release is impeccable given political and social upheaval in the band's birthplace (Brexit-bound UK) and where Dave Gahan and Martin Gore now reside (Trump's USA).
Gore has spent decades as a lyricist agonising over deeply personal issues such as love, loss, religion and sex that a return to the stories of old (sorry!) in the political sphere circa Construction Time Again and Some Great Reward could be seen as a surprise.
Most 55-year-old songwriters have often confined the firebrand days to their youth, so this new, outward-looking perspective is an interesting and perhaps surprising one to experience again.
Gahan, during the Spirit press conference in Milan in October last year, commented on how Ford had taught himself to play Gore's pedal steel guitar during a studio session, and that it appears on a number of tracks, WTR included, where it signals the end of each segment of the song.
The track is not uptempo by any means but has a pounding groove in parts to match the march-type vibe (a call to arms, even) that Gore is trying to achieve with the lyrics.
One suspects a lot of attention from both hardcore devotees and critics will focus on the "get on board" middle-8, both lyrically and sonically.
Middle-8s are designed as juxtapositions between the flow of verses and chorus, yet WTR's effort hangs awkwardly in the air.
It's not Depeche's finest hour.
Thankfully the chorus returns for a final outing, with some soaring soundscapes and a full ensemble of voices almost crying out for Gore's revolution (Andy Fletcher is credited with backing vocals).
It's worth pointing out that Gahan's vocal appears to be getting stronger with each "project" (Halo on the last Depeche tour and his work with Soulsavers in 2015, especially live, illustrated what he can really do with his voice).
There are always nods to the past – it's inevitable with such a vast catalogue of work to refer back to – so early contenders musically are The Sweetest Condition (as Almost Predictable, Almost… points out), Corrupt from Sounds Of The Universe and almost a hint of Violator's Sweetest Perfection in parts.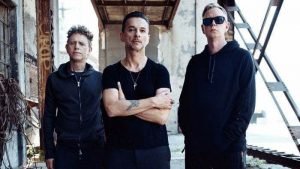 Make no mistake, Gahan will be polishing his boots, ready to rouse the masses when Spirit goes on the road from May, with WTR a likely contender for one of his audience singalongs.
As new Depeche era-intros go, WTR will instantly divide opinion amongst stalwarts (first singles always do) but it's a bold opener from what feels like a band trying to be bolder (and, indeed, older).
Where's The Revolution will no doubt come in a cascade of different formats, as is Depeche's way. Details on those shortly.
[polldaddy poll=9655475]
Words (M L Gore):
You've been kept down
You've been pushed 'round
You've been lied to
You've been fed truths
Who's making your decisions
You or your religion
Your government, your countries
You patriotic junkies
Where's the revolution
Come on people
You're letting me down
Where's the revolution
Come on people
You're letting me down
You've been pissed on
For too long
Your rights abused
Your views refused
They manipulate and threaten
With terror as a weapon
Scare you till you're stupefied
Wear you down until you're on their side
Where's the revolution
Come on people
You're letting me down
Where's the revolution
Come on people
You're letting me down
The train is coming
The train is coming
The train is coming
The train is coming
So get on board
Get on board
Get on board
Get on board
The engine's humming
The engine's humming
The engine's humming
The engine's humming
So get on board
Get on board
Get on board
Get on board
Where's the revolution
Come on people
You're letting me down
Where's the revolution
Come on people
You're letting me down