One of the really heartwarming parts of writing this biography has been how frequently fans of the band have got in touch to offer a nugget or two (or ten!) of detail.
Luckily for me, there is a wonderful and extremely genuine passion amongst the Devotistas for sharing memories and useful bits of information.
(thank you, very much!) x
Many of these will end up in the book, but some are worth sharing here as they do not have a particular place in the story or, as in the case of this post, require some listening.
Step forward diehard Depeche Mode fan Andy McMinn, who many of you will know from his terrific efforts as one of the admins on the consistently brilliant (and, frankly, extremely useful!) Depeche Mode Classic Photos and Fans fan page on Facebook.
McMinn got in touch recently to point out that he'd remembered – years after letting some of his vinyl go – that, rather randomly, another of his favourite bands had used a sample from the well-liked Personal Jesus b-side, Dangerous.
The somewhat unlikely scenario of a sampled part from the extremely electronic Dangerous ending up on a track by Level 42 is, indeed, surprising.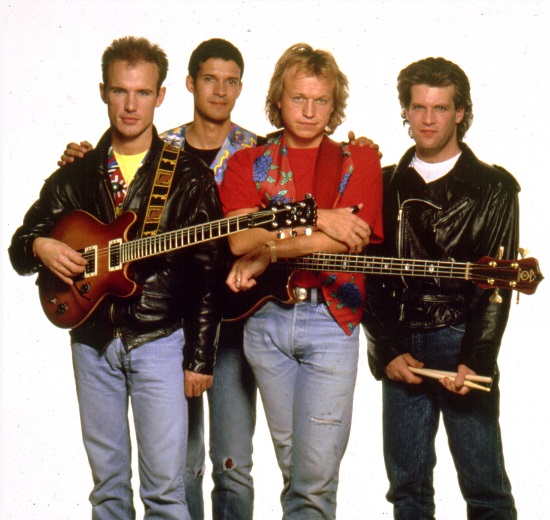 Level 42 are best known for their successful career as a technically superb jazz funk outfit that produced a string of chart hits (such as Lessons In Love and Something About You) throughout the 1980s and early-1990s.
The 1991 release of the band's ninth album, Guaranteed, coincided with a single of the same name.
Tucked away on the 12-inch version of Guaranteed was the "New Avengers Mix".
The remix was pulled together by Peter Lorimer (aka 29 Palms), who at the time was also working with the Happy Mondays, Yello, INXS and Electronic, and in later years collaborated with dance artists such as Dido, Tall Paul and Paul Oakenfold.
Here is the original Depeche Mode version of Dangerous:
Despite their peak years (in terms of mainstream chart success) now being a few decades behind them, Level 42 still regularly tour and record new music.
Guaranteed has been played on the band's most recent flurry of gigs around the UK, sadly minus the Dangerous sample at the beginning of the track.
NB: Thanks, Andy, for (re)discovering this rather improbable mixture of classic Depeche and hard-slap bass 🙂