You have to feel for seasoned broadcaster and doyenne of BBC 6Music radio station, Lauren Laverne, as she saunters on to the Barrowlands stage to absolute bedlam in front of her.
The 38-year-old has probably seen some sights over the years as both a singer in the band Kenickie back in the mid-1990s and her subsequent radio and TV career – yet the gig in Glasgow is a unique moment for her, for the masses packed in under the ornate ceiling, and for the band she is about to introduce.
The band, obviously, is Depeche Mode – headlining the Sunday and final night of the station's annual festival, and clearly the most high-profile and eagerly anticipated of the 70 or so acts that are performing over three days in the city.
Laverne has never introduced Depeche on-stage before (perhaps never even a band of their global scale and popularity), and certainly not one within the confines of a venue that by showtime is boiling (literally) over with excitement.
As she works her way through her notes, finally getting to the section where she hints at what is to come, you can see a combination of excitement, amusement and perhaps surprise at the reaction she is getting.
The baked crowd (no official number has been released, but it is probably in the region of 1,750 people, given the capacity is reduced somewhat to accommodate the film crew and tech area at the rear of the former ballroom) are roaring loudly at the end of every sentence.
"Get my boys on, Lauren!" screams a male fan with a thick Scottish accent near the front.
* * * *
Rewind a few hours and you can feel in the bars around the city that fans are preparing for an extravaganza.
This is, as Laverne reminded everyone to more cheers, the first time that Depeche have performed at the famous old venue since 1984 – confining themselves over the last two tours to the SECC and Hydro mega-halls elsewhere in the city, with those being the first Glasgow gigs since the Black Celebration Tour in 1986.
What most fans can sense is that this has all the factors necessary to go down as a landmark event – venue, crowd size, well-rested personnel (none of the late-in-the-tour fatigue having kicked in yet) and their first proper show in three years (the handful of small gigs in the previous week have been shorter and geared solely around to promote the new Spirit album).
Sure, there is a fair amount of anger over the way the tickets for the Barrowlands gig have been sold, with some appearing on re-seller sites before they've gone on sale to the devotee-verse.
By Sunday night, however, such irritations have gone and, whilst obviously being on the band's circuit to push the new long-player, this instead feels like the first night of the forthcoming tour.
There is also no hiding away for a band in a venue such as the Barrowlands – the crowd is barely a few feet away from the performers, rather than the sprawling stages and rigs that will accompany the stadium and arena shows for Depeche in a few months.
Still, very few people in attendance will remember or have seen Depeche in such as setting – thus the raucous noise that erupts as Laverne ends her introduction and the band walk on stage.
I suspect they'll not forget – or indeed, want to forget – those first few minutes in a hurry.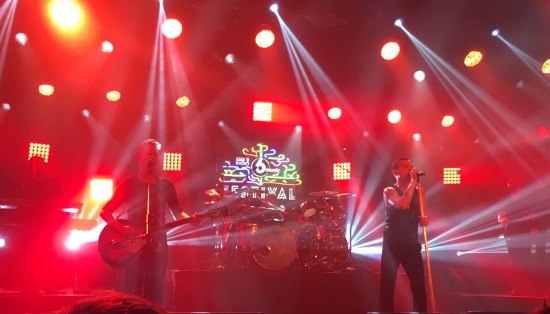 If Going Backwards makes it to being the opener on the final setlist for the Spirit Tour, then the trio's traditional squabbles over track selection and ordering will have paid off – it is a terrific song and has that now-usual Depeche sing-along quality to it and, in this case, sets the scene for what is to follow.
The A Question Of Time-esque So Much Love ignites the first heave of the legendary springy Barrowlands floor, yet perhaps what most people have already noticed and are lapping up is how much fun frontman Dave Gahan is having.
He twirls (nothing unusual there), pirouettes (nor there) and struts (or there), but in between are glimpses of a mischevious, pumped-up and fun singer clearly at ease with the opportunity to do his thing… and more.
He pokes his tongue out at the audience, grins like a giddy love-struck teenager, points at people and laughs his way through the first few tracks as if he's just been plucked out of the Barras Market next door as a late replacement for the often-brooding, normal Dave Gahan.
Fans talk about the waistcoats and the boots and "guyliner" and (over-)analyse almost every move, yet very few people will disagree that he remains one of music's best frontmen, having that confident and unique ability to entertain, control and cajole an audience.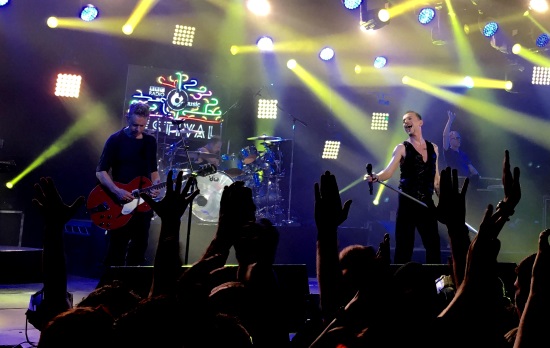 Corrupt comes next, perhaps the only slight low-point of the entire 12-song set, followed by A Pain That I'm Used To, complete with Peter Gordeno on bass guitar.
It's not a perfect Depeche Mode song, but in this setting, it works, with Gahan prowling around and grinning at his two fellow stage-dwellers.
Arguably the next trio of songs is the first highlight of the set, with huge roars greeting those famous, bass-heavy bars of World In My Eyes (after the reworked, more atmospheric chord opening).
The sound is terrific and the loud synths for the final third of the song reverberate around the venue as Martin Gore, during his only keyboard-bound song, sings the Violator opener out.
The playful Gahan appears to be getting on well with Gore, comforting to those that worry about such things following reports of (but later played down) disagreements during the recording of Spirit.
He waves his towel in front of Gore to cool him down (Gahan himself is sweating profusely within minutes of the gig starting), exchanges a cheeky grin or two, kisses him on the head at the end of a song – antics that fans forget the sometimes serious Depeche Mode are capable of.
Gore himself, whilst appearing nervous at the recent Berlin promo show, looks relaxed as he says a few words or laughs with his guitar tech between songs.
Cover Me is a wonderfully intense song, starting here in a reasonably low-key way before the keyboards hit with a glorious wall of noise as Gore moves the slide up and down the guitar strings.
It is one of the best songs that Depeche have produced in many years. Gahan looks extremely proud of it as he shouts and encourages the crowd to follow his every clap.
After the song's hypnotic ending, Gahan leaves the stage and the yelling and cheers start again, the crowd knowing it's Gore's turn to serenade them.
What comes next is a bit of a surprise, a fully-backed version of Home, sung with a passion and quality that reduces a couple stood nearby  to tears.
Whilst not weep-inducing to the vast majority of fans in attendance in the Barrowlands, it is a very moving moment, triggering the inevitable crowd serenade back to Gore at the end.
Where's The Revolution and Barrel Of A Gun follow – the former sounding better than it has on the promo shows and Gore's guitar cranked up a bit higher for the single from Ultra.
The latter will never be a perfect live track, but similar to A Pain That I'm Used To, it works here mainly because of the setting and atmosphere and Gahan's incessant but appreciated patrolling of the stage.
"He's absolutely lovin' it!" laughs a guy to his girlfriend. "Haven't seen him this animated for years….. COME ON, DAVE!!!!"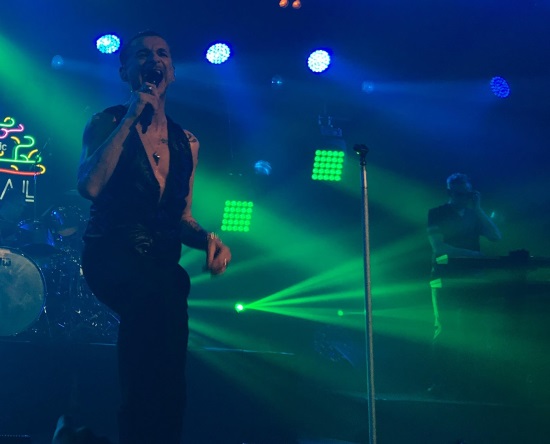 The final three songs (two with a mini-break ahead of the "encore", Enjoy The Silence) are pure Depeche in crowd-pleasing mode.
The reworked Walking In My Shoes sounds good and fresh, and gone is the almost painfully slow introduction to Personal Jesus from the Delta Machine Tour.
An ear-splitting series of "Reach out and touch faith" that end Personal Jesus are enough to, coining a well-worn cliche, metaphorically take the roof off the venue.
The band look shocked but thrilled at how raucous everything is.
It has turned into a crowd and band-fuelled celebration that many arguably haven't seen since some of the nights on the Singles Tour in 1998.
Enjoy The Silence concludes the Barrowlands evening, again with a classic fan-led sing-along.
The music ends, the band come forward for their customary bow (Andy Fletcher comes over stage-left to applaud and grin),  and they're gone.
For a moment there is a glimmer of hope that they will return for another song, perhaps debuting the cover of David Bowie's Heroes that has been being talked about recently, but the venue music kicks in and the crowd (including Labour Party deputy leader, Tom Watson) are left to look at one another with various interpretations of "Did THAT just happen?"-type expressions.
* * * *
It is easy to get caught up in the hyperbole of such a night – to think it was bigger or better than it really was, just because you were lucky enough be there.
But, equally, Depeche have been around for so long now that many fans will naturally cast their minds back, nostalgically, to what they consider peaks for the band, and refuse to acknowledge that the now-trio (plus Gordeno and Christian Eigner on tours) can still cut it as a live act.
Yet it was, for many there on Sunday night, the pinnacle of their Depeche Mode live experiences.
Bands such as Depeche, with their enormous gigs, entourage and tightly controlled publicity schedule, rarely perform in an environment that feels both "old school" and utterly rapturous.
One fan said to me later that it felt like "his band" had come to perform just for him and his mates (that's how so-called devotees often verbalise their passion – as if they have some kind of ownership of "my boys").
The intimacy of the occasion and the passion that flowed between the band (especially Gahan) and the masses was a remarkable one to witness and be a part of.
Sure, there were a few flaws – some off-kilter harmonies during Walking In My Shoes and drummer Eigner continues to irk some fans (head over to the unofficial Eigner Fanclub, Electricity Club, for their valid take on that) – but this gig wasn't about those individual moments, and certainly did not overshadow in any way the otherwise unique and celebratory night for what it was: an event that many will struggle to forget.
The reaction to the gig, generally, has been extraordinary (even from the sometimes unforgiving British mainstream press) – a prime example being David McElroy's take on the Almost Predictable… Almost blog.
An "I was there!" moment for so many people.
I saw Depeche Mode on consecutive nights at the Bercy in Paris in 1993, during the Devotional Tour, and was blown away by their sheer power and an overwhelming explosion of colour, noise and swagger from the show.
I was also lucky enough to be at the Royal Albert Hall in 2010 (when Alan Wilder famously returned to play Somebody with Gore) but had consoled myself that I'd probably never experience something like that again (hint-hint, band and manager Jonathan "Baron" Kessler: iconic venues bring out the best in Depeche Mode).
But, 37 years in, they somehow, against all the odds of running a slick, sophisticated, professional and hugely popular Depeche Mode these days (it does almost feel like a "brand" sometimes), managed to inspire what for many will go down as a very special, intimate and one hell of a barnstorming evening at the Barrowlands of Glasgow.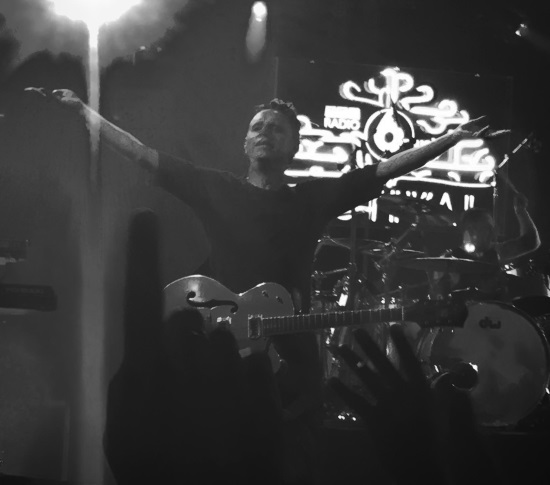 FOOTNOTE:
In the early hours of Monday morning, I found myself – with half a dozen or so friends – dissecting the evening over a few drinks in the bar of a hotel in the north of the city.
We didn't try to gatecrash but we could see the entire band, entourage and guests at a private party next door. Sometimes it feels better to just let people get on with their lives – in this case, celebrating their evening.
Still, as good fortune has it, I bumped into Fletch outside in the street when I arrived, so we chatted for a while.
I have never sought to contact any band that I have liked (except, in the case of Depeche, when dealing with their management for HALO), so this is a surprise and, after decades of following them, not as intimidating an experience as one might have feared.
Thanks, Fletch.
Later, I also spoke to Eigner outside the hotel as we left at the end of the night. He was on good form and happy to oblige the by-then half a dozen or so people who asked for pictures.
Unusually for me, not wanting to come across as a groupie despite being at the band's hotel, I thought (presumably by now, simply basking in the adrenalin of the evening) that it was a worth asking.
Oh well 🙂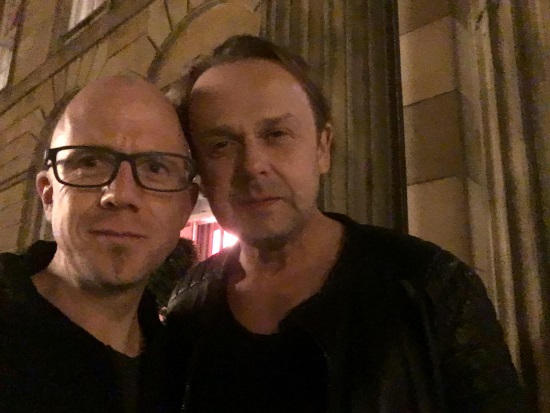 Lastly, even the 630am flight that I had to take a few hours later to return to home (and the day job) had its upside.
The fair city of Glasgow certainly knows how to do a sunrise.